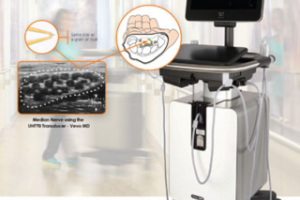 FUJIFILM VisualSonics Inc., a world leader in ultra high frequency ultrasound imaging systems and subsidiary of FUJIFILM SonoSite, Inc., announces CE mark for the Vevo® MD, the world's first Ultra High Frequency (UHF) clinical ultrasound system. With multiple successes in preclinical research over the last decade, today marks a major milestone for FUJIFILM VisualSonics as it expands into the clinical market.
"As the undisputed leader in ultra high frequency imaging systems, FUJIFILM VisualSonics once again advances the field of ultrasound with the launch of the Vevo MD," said Masayuki Higuchi, president & CEO, FUJIFILM SonoSite, Inc. "We are proud to be the first to bring to market this exciting innovation that is sure to have high impact on the medical imaging community while expanding the product portfolio of FUJIFILM SonoSite."
The Vevo MD is truly a unique ultrasound system, as it operates at much higher frequencies than any conventional ultrasound system currently available. Along with the Vevo MD system, FUJIFILM VisualSonics also introduces the UHF Series of transducers. This patented transducer technology is capable of operating in a range of frequencies up to 70 MHz, a tremendous increase in resolution compared to conventional ultrasound systems.
"The Vevo MD allows medical professionals to see what they have never seen before—unparalleled image resolution down to 30 micrometers. This is less than half the size of a grain of sand," said Renaud Maloberti, vice president & general manager of FUJIFILM VisualSonics. "Imagine the great potential this technology has across unexplored applications to visualize the smallest, highly detailed anatomy in a way that has never been done before."
"We believe this technology has a role to play in a range of clinical application areas from neonatology, vascular, musculoskeletal, dermatology, or other small parts that are within the first 3 cm of the body," said Andrew Needles, director of marketing at FUJIFILM VisualSonics."We also know that there are new and interesting areas to be discovered. The Vevo MD gives us and our users the opportunity to make those discoveries together."
The Vevo MD is now commercially available with CE mark in the majority of European Union countries. For more information and contact details please visit www.vevomd.com or contact FUJIFILM VisualSonics at www.visualsonics.com.