New Certificate: Interventional Pain and MSK Ultrasound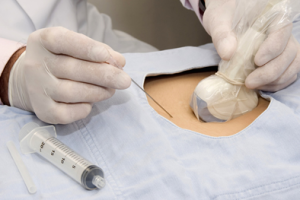 ASRA will offer a new certificate in Interventional Pain and MSK Ultrasound to qualified physicians beginning in 2017.
The ASRA Board recently approved the development of the certificate, which will enable physicians to document skills and training in this highly specialized field of pain management. A committee will convene to develop the certificate program, which will require candidates to complete a written and practical exam as well as provide evidence of prior training and experience.
---
"The certificate helps ensure that a practitioner is properly trained and competent not only in the technical skills but the also in the judgment and communication skills that are essential to these procedures." — Philip Peng, MBBS, FRCPC, Founder (Pain Medicine)
---
Ultrasound-guided pain procedures and musculoskeletal (MSK) injections require a high level of skill and experience in order to be safely administered. Sonography images are subject to individual interpretation depending on one's experiences and training, and there is no formal training on Interventional Pain and MSK ultrasound during residency and fellowship. As a result, most physicians learn the techniques through hands-on workshops and online educational activities. There is increasing pressure from payers, employers, and the public to ensure physicians are competent and well trained.
"As a leader in providing high-quality, scientifically based training in these areas, it was natural for ASRA to move in this direction," said Board member Samer Narouze, MD, PhD, who has championed the program's development.
Philip Peng, MBBS, FRCPC, Founder (Pain Medicine), co-developer and ASRA faculty member, said the certificate reflects more than just technical proficiency.
"ASRA educational programs are well-respected, and the quality is well known in the field," Peng said. "The certificate helps ensure that a practitioner is properly trained and competent not only in the technical skills but the also in the judgment and communication skills that are essential to these procedures."
Continue reading here